Sutherland is a mostly residential neighbourhood located in east-central Saskatoon, Saskatchewan, Canada. It is an older suburban subdivision, composed of a near-even mix of single-family detached houses and multiple-unit apartment and semi-detached dwellings.
As of 2006, the area is home to 5,206 residents. The neighbourhood is considered a middle-income area, with an average family income of $51,857, an average dwelling value of $204,213 and a home ownership rate of 43.8%.[1][2]
According to MLS data, the average sale price of a home as of 2013 was $288,651.[3] Sutherland was originally a town outside of Saskatoon before being annexed by the city in 1956.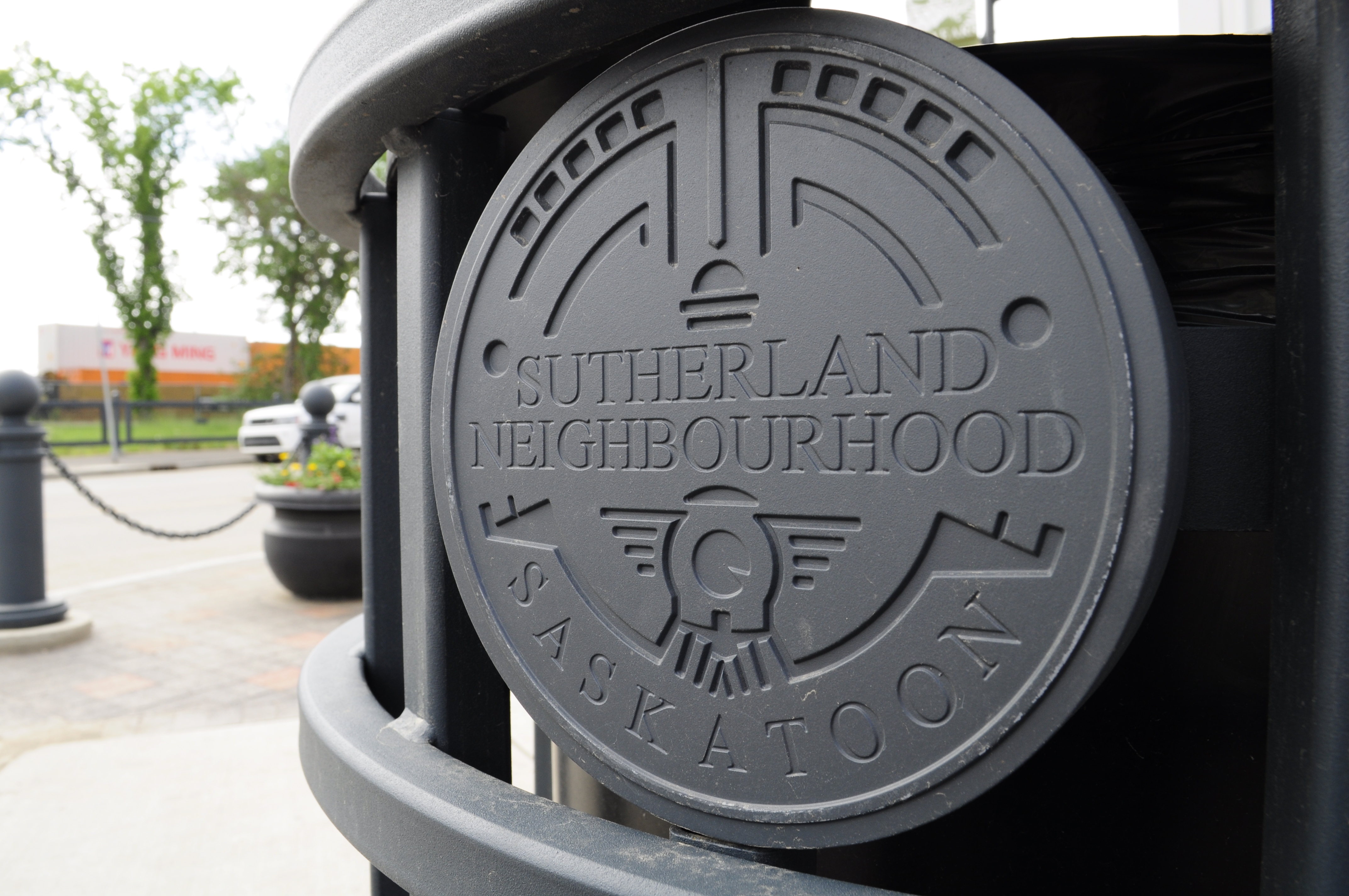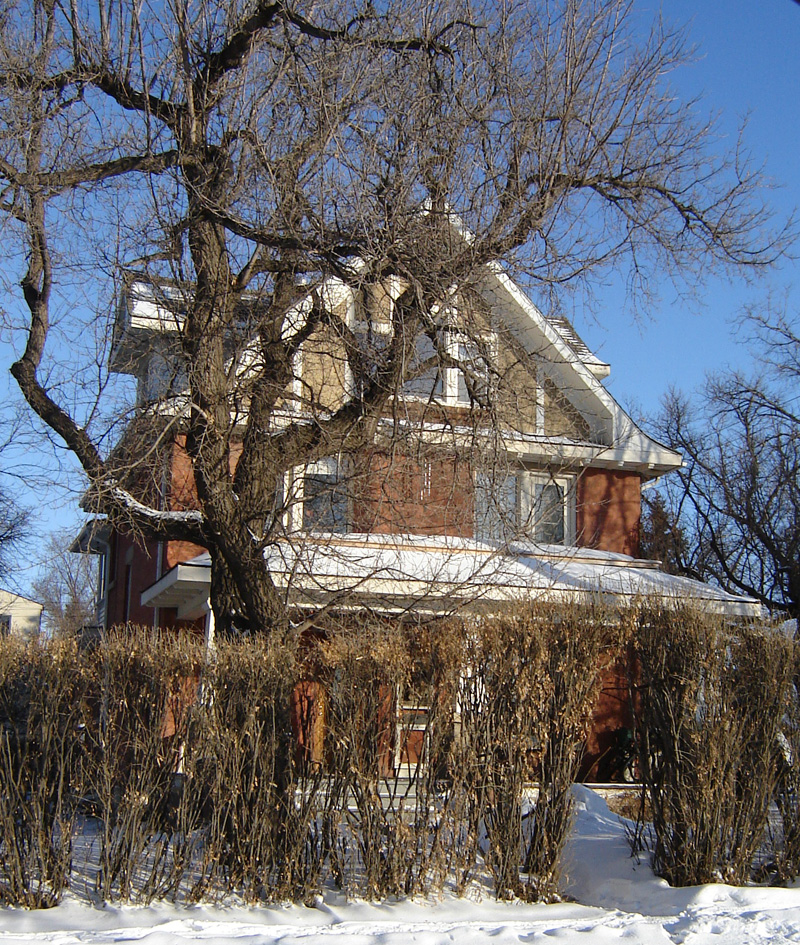 James Powe and his family arrived in Saskatoon from Ontario in 1884. The Powe family homesteaded in the area which is now Sutherland in 1893. Their grand house, which stands on the present-day corner of Central Avenue and 115th Street, was built between 1912 and 1914. The foundation was made from local fieldstone, making the basement walls as thick as 24 inches (610 mm).[4]
Albert Hanson, a noted Saskatoon real estate agent, bought land in the Sutherland area beginning in 1905. He then sold some of it to the Canadian Pacific Railway,[5] whose branch line between Regina and Edmonton reached Saskatoon in 1907.[4] The area of Sutherland was built up as the CPR yards and station were constructed 3 miles (4.8 km) east of Saskatoon.[6] This was in keeping with the railway's practice of bypassing existing communities and building its own town sites on land it owned, thus sharing the real estate profits with no one.
Hanson subdivided the rest of his land as residential and commercial properties, laid out on a typical north-south grid pattern. The railway's town site was on a grid parallel to the tracks, resulting in a triangular gap between the two areas. This became built up as an industrial area (later the separate Sutherland Industrial subdivision). Most of the subsequent population growth occurred on Hanson's land west of the tracks, due in part to the lack of schools or parks on the east side.
The first settler in the new townsite was Nelson Emery, a CPR timekeeper, storekeeper, and building inspector.[4] In 1908, the City of Saskatoon struck an agreement to supply water to the yards.[7] The first post office was also established that year, with W. G. Clark as its first postmaster.[8] The first school, a temporary one-room structure, was opened in November 1908 on a site on 109th Street. On February 2, 1909, a newer one-room school was opened at the present-day Sutherland School site on Egbert Avenue and 111th Street.[9]
By the spring of 1909 the settlement had a population of 102, and the residents applied for incorporation as a village. The village of Sutherland was created on August 30, 1909.[10] It was named after William Charles Sutherland, a politician who served on Saskatoon's town council before it became a city in 1906.
The Sutherland Curling Club was founded and built its first rink in 1910.[11] By 1912, Sutherland's population had grown to 1000, enabling it to incorporate as a town.[12] A new town hall was completed in January 1912, at the corner of Egbert Avenue and 108th Street.[5]
On November 12 of the same year, the cornerstone for a new multi-storey Sutherland School was laid. The grand "castle" style school opened for the 1913-1914 school year.[9] In 1914, the town received service from the Saskatoon Municipal Railway.[12] Future NHL hall of famer Chuck Rayner was born in Sutherland in 1920.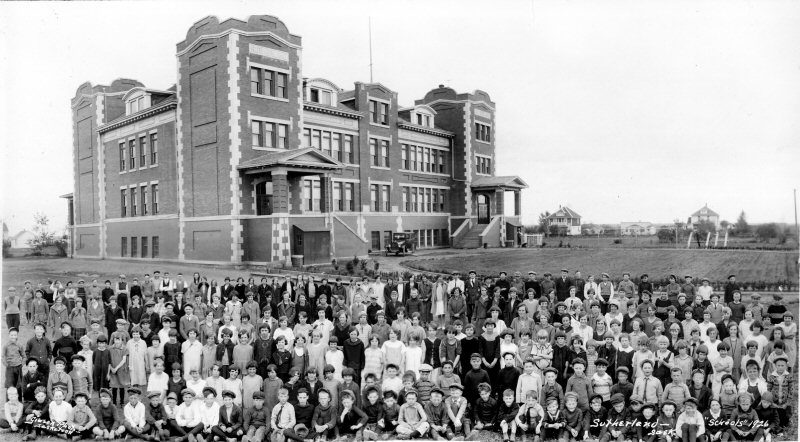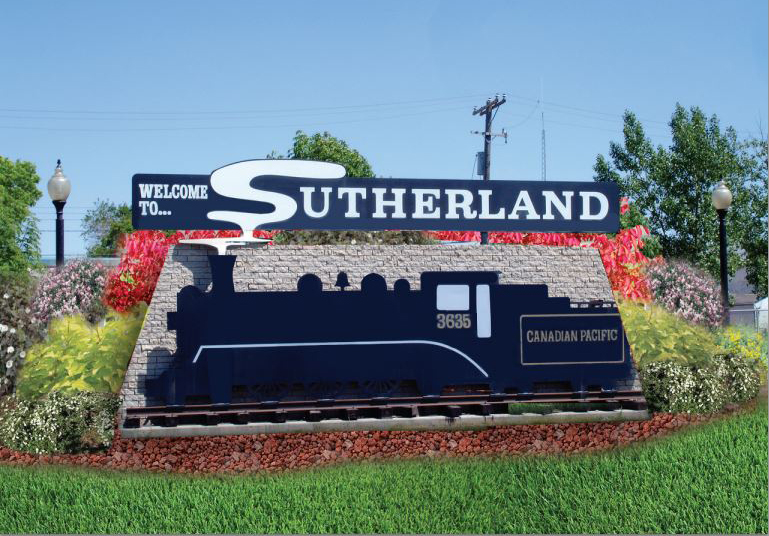 With a population of 1500 by 1912, growth was stalled by the economic recession prior to World War I. Significant growth did not occur again until the 1950s – in 1956, the town was annexed by the growing city of Saskatoon.[5] Sutherland became the city's easternmost neighbourhood until development in the 1970s took place even further east.[12] The amalgamation required some name changes to Sutherland's streets, to avoid confusion with identically-named streets already in Saskatoon (e.g. 6th Street became 110th Street).[13] Also, some named streets were eventually renamed in order to removed conflict with existing Saskatoon streets. Examples include Fraser Street, which was named Fitzgerald Street (because Saskatoon had a Fraser Crescent), and Railway Avenue, which became Gray Avenue in deference to Saskatoon's version.
The Sutherland "train sign" has been a signature landmark in Sutherland since 2000. Recently, the sign has been restored and beautified–new lighting fixtures have been installed and new shrubs and plants frame the perimeter. The sign resides at the intersection of Central Avenue and College Drive.
The village was named for William Charles Sutherland, a prominent early politician, who had also worked in Saskatoon as a